There is nothing better than getting home after a long day and relaxing in you own slice of paradise!
Gardens are an important feature of your home and we have compiled a list of a few fun projects to help transform your garden from drab to fab!
Add Mirrors!
Mirrors aren't just for indoors, fix them to a wall or a fence to create the illusion of more space!
They look gorgeous peaking out from between the plants in a border or as a feature piece on a wall! Just make sure you weather proof the frame!
Pallets are your new best friend!
You can transform a pallet in to pretty much anything these days and often you can pick them up for free or at least very cheaply from second hand selling sites and builders yards!
You can make all sorts from pallet decking, pallet planters, a pallet bar and even some seating!
Just a word of caution, make sure you wear gloves when handling the wood as they can often be very rough and have nails sticking out here and there!


Not much ground space?
Take to the walls! Again, the pallets are ideal for this or a piece of pvc piping or guttering.
If you are going down the pipe route just slice a segment out the top, drill a few drainage holes in the underside and plant away!
I'd recommend alpines or succulents for this kind of planter to create an easy to manage yet striking display.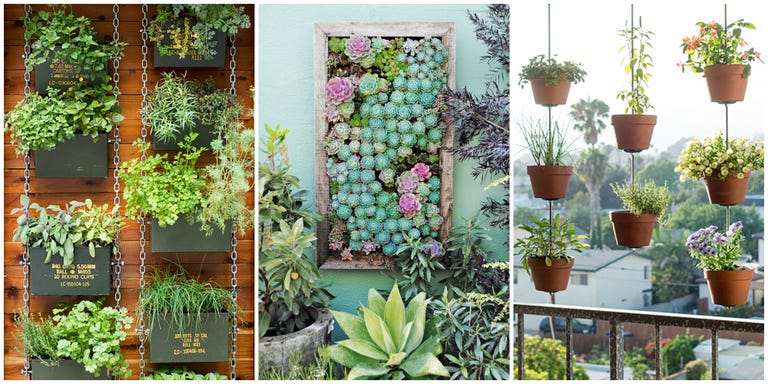 Flower pots looking a bit lacklustre?
Grab your spray paint and get cracking! As we mentioned in our previous article Spray paint is a DIY'ers best friend!
You can get all sorts of colours and textures, it is extremely quick drying and pretty hardy! Lay some newspaper or binbags to protect your surfaces and get spraying.
You could even use household items to create brilliant patterns on the pots, use masking tape to create contrasting colour blocks, stripes, chevrons etc
or carve your stencil of choice into a potato and stamp away!
Don't Be shy about lighting up!
Strings of solar lights can transform any space and are always a crowd pleaser. Consider strings of lights to wind round trees or bushes, maybe a net of lights across a fence panel or a wall.
Something that really adds the wow factor is edging a patio or decking with a rope light, these again are mostly solar powered and are waterproof!
Get some levels!
I personally like different heights and shapes in my garden I think it gives much more of a full and mature feel.
If you have a rockery grab some brick/ blocks/ whatever you've got lying around and get some height!
You can stack plant pots on one another, make a plant stand out of a pallet or incorporate mixtures of low bedding plants and tall leafy plants!
Looking for that wow factor feature?
Surprisingly it isn't too tricky or too expensive to make your own fire pit or water feature!
Follow the link below for a handy walk through guide to making a water feature that won't take you weeks to build and won't cost the earth!
The simple design of tiered plant pots and the rock fillers is a classic look that will impress all your guests!

  

click the picture below to find help on building! Fire pits produce a massive amount of heat and they are ideal for roasting marshmallows!
A word of caution be careful when choosing the positioning of the fire pit you don't want to accidentally set the fence on fire!  
Looking for something a little hotter? It couldn't be easier to build a fire pit, perfect to relax around with a G & T after a long day,
Something else to bear in mind when planning your garden, is well stocked borders or pots can deliver a real impact.
It is worth checking local plant nurseries and farms for you plant needs as they are often better value for money and also often much sturdier and more substantial.
Be sure to keep an eye on your plant's needs, you can find all the information on the little plant card they come with!
Make sure you water them regularly and keep a watch for any pesky slugs or snails that might want to nibble on your foliage!