We may not have hit summer just yet, but it has without a doubt started to heat up! Now those grey clouds and blustery days are behind us it is time to take advantage of warm weather and longer days. Perfect for a spot of redecoration! We've scoured through the web to find you the hottest trends for summer this year!
Embrace the Foliage!
Turns out plants, not just for outside! Who knew? A recurring theme we are seeing is a real increase in the addition of greenery* to the home. Now it is scientifically proved that having house plants is good for you and the air in your home, BUT why stop there? Create a striking look with a foliage feature wall! Mix green tones and plant motifs with greys and wood to create a beautiful airy industrial space brimming with character!
Not sure you are ready to go full jungle? Consider plant themed accessories that compliment your colour scheme and furniture, it could be a striking black and white print (great in any scheme!), throw cushions, a bed spread or even a jazzy plant lampshade! The possibilities are well and truly endless!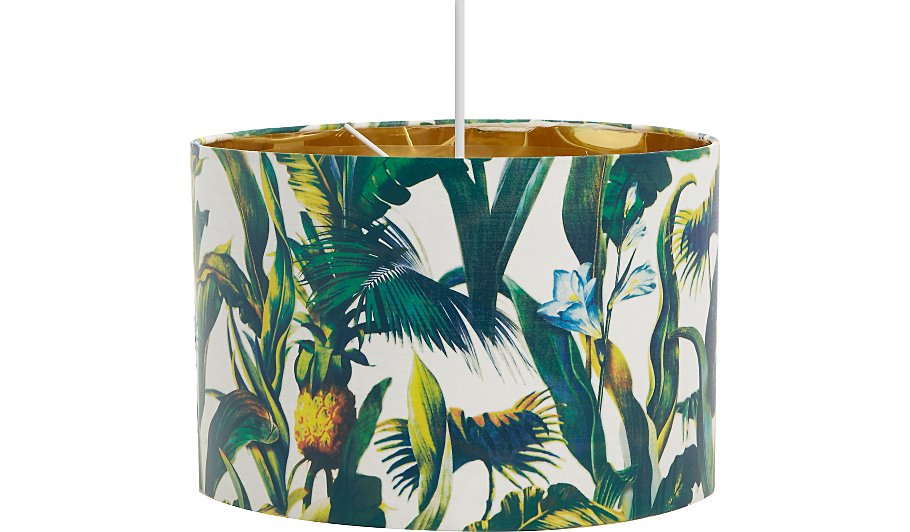 **Not blessed with a green thumb? Invest in some artificial plants, we won't tell if you don't!
Living the life of luxury!
Metals are back in fashion and it is not just the classic gold and silver but their close relatives copper and rose gold and the opulence you can create with the right blend of colours and materials is nothing short of divine! Once again, the level of luxury is up to you, whether it is accessories or statement walls, there is something to suite everyone and every budget!
For example, the great thing about metallics is it doesn't take much to make a statement so don't be afraid to go get some spray paint and go for it! There are so many types of paint available pretty much everything and anything is paintable. Consider this, a pair of plain wooden candlesticks they are nice enough but don't really fit your scheme, so paint them the same colour as say your feature wall and let dry. Once dry wrap the top and bottom few inches in masking tap and break out the spray paint! Spray the area NOT covered by tape and set to dry. Once dry peel away tap and VOILA! Awesome statement piece at a very low cost!
Ice Cream anyone?
Lastly If moody colours and plants aren't your thing and you are looking for something with more of an element of fun then this is the one for you!
Mix and match pastel shades to create a bold statement that is soft round the edges. Pistachio green, bubble-gum blue, strawberry pink and lemon yellow all compliment one another and create a striking look on top of a neutral base.
Again, this style is ideal for some D.I.Y! Pick up some vibrant paints and lash it on, upcycle old photo frames, vases, mirrors and anything else you could imagine! A bright pink stags head on a grey wall? That is going to look AWESOME! If you are looking for more a pastel shade and want to tone down the vividness, then just pop a bit of white or cream paint in with your colour and stir. Adding bit by bit is also a great way to create an ombre effect!
We look forward to seeing your décor! Let us know if you'll be decorating on trend this summer or if these trends are not for you!